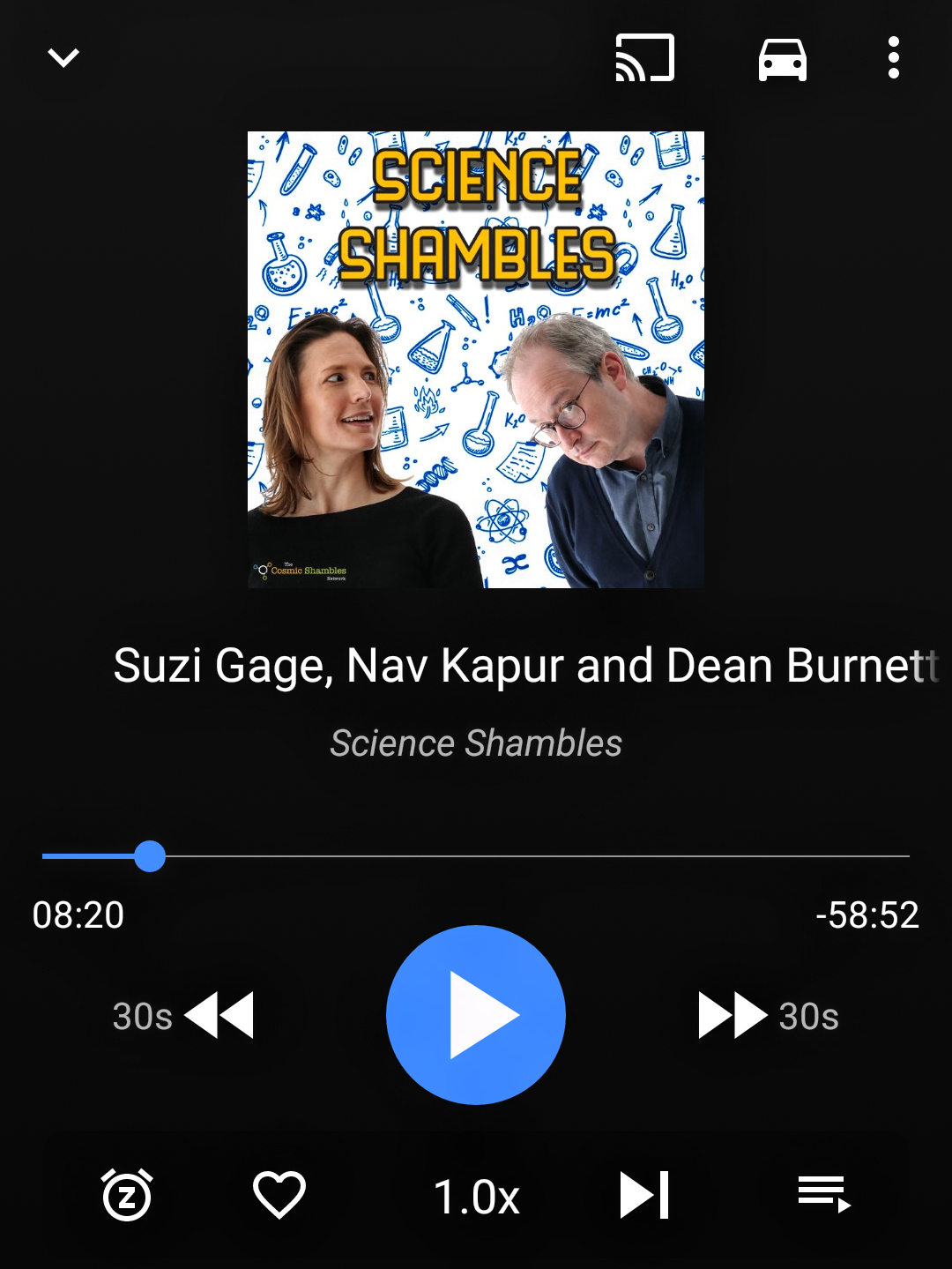 The Movember challenge has encouraged me to walk a bit further each lunchtime and that has allowed me to make inroads into my podcast playlist. The backlog currently stands at 426 episodes - 388 hours and almost 30 GBytes of MP3s. So I need to do a lot more walking…
One series of shows that always get priority are the Science Shambles podcasts from the Cosmic Shambles Network. These are great examples of science public engagement, featuring leaders in a wide range of scientific endeavours talking about their work, or just taking part in fascinating Q&As about their subjects.
This year they have managed to involve four astronauts (Samantha Cristoforetti, Helen Sharman, Tim Peake, and Chris Hadfield) as well as luminaries such as Alan Moore, Sir Paul Nurse, and Jon Butterworth. They produce a Sunday panel Q&A session, as well as individual interview podcasts, and special events. The Sunday afternoon Q&A is broadcast live on YouTube and later published as an audio podcast. As the audio version is not heavily re-edited the sound quality can be a little dodgy at times but the content is always fascinating. The interviews and book review episodes are very professionally produced, so don't be put off by the Sunday sessions.
The Science Shambles podcasts often share episodes with sibling Book Shambles and Genetic Shambles podcasts, both of which I can heartily recommend.
Traditionally the Cosmic Shambles crew do a series of live events through the year culminating in a Nine Lessons and Carols for Curious People show in December - a science-oriented variety show full of comedy and music. After more than 15 years in front of appreciative audiences, circumstances have meant that this year the show will be broadcast online as a live 24 hour event starting at midday on the 12th December 2020. At the time of writing over a hundred performers have been announced, ranging from Jim Al-Khalili to Sophie Ellis-Bextor, Dame Dr Jocelyn Bell Burnell to Lost Voice Guy, and from Chris Hadfield to Nitin Sawhney.
Nine Lessons and Carols for Socially Distanced People, as it has been renamed, is going to be free but they are running a Crowdfunder to support four charities*, server costs, and considerable amounts of coffee. It is well worth bunging them a quid or two.
If you like Science, give it a try - you'll love it.
* Charities supported: